Welcome to Ukraine Bus!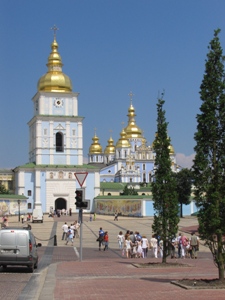 Ukraine Bus is a bus charter platform operated by the european tour operator City Tours with head office in Vienna, Austria. Through Ukraine Bus, you can rent chauffeur-driven charter buses and minivans for any type of sightseeing tours and transfers in Ukraine. Among others, Ukraine Bus offers the following types of charter bus services:
City transfers in Ukraine
Be it a transfer from your hotel to a museum, to a place of interest or to an event location, be it a ride from a show or a concert to your hotel or be it a trip from one business trip to another: the charter buses of Ukraine Bus are always at your disposal to take you from one place to another within any city in Ukraine.
Airport transfers in Ukraine
Besides city transfers, Ukraine Bus does also offer airport transfers by coach or minivan with driver. When you arrive in Ukraine, our chauffeurs will gladly pick you up at the airport of your choice and take you to your desired destination. And when you leave Ukraine, our comfortable and reliable buses will take you from a meeting point of your choice to the airport. Thanks to our co-operation with a large number of carefully selected first-class bus companies from Ukraine as well as with ukrainian welcoming agencies and tour guide organisations, we can arrange airport service for any group size and provide you with professional tour guides or tour managers to greet you at the airport or to show you around in Ukraine.
National bus transfers in Ukraine
Travelling by bus is a comfortable and reliable alternative to planes and trains. Should you wish to travel from one ukrainian city to another by coach, our buses are ready to drive you from any given meeting point to any destination in Ukraine. According to the size of your group, we can provide you with tour buses or minibuses that are particularly suitable for long range bus transfers in Ukraine.
Sightseeing tours in Ukraine
In addition to the above mentioned charter bus transfers in Ukraine, our company is also ready to help you arrange and execute any kind of sightseeing tour in Ukraine by chauffeur-driven coach or minivan. With Ukraine Bus, you have the choice between a stand-alone charter bus reservation for your tour or a complete tour package booking. Should you opt for the tour package, we will gladly advise you about any topic related to your journey through Ukraine, including hotel reservation, tour guide booking, group menu arrangement and ticket reservation for shows, concerts, folklore evenings and other events in Ukraine.
International bus transfers and tours in Europe
Of course, Ukraine Bus does also offer you charter bus service for international transfers and cross-continental sightseeing tours by coach or minivan. Together with the staff of City Tours Europe, we can also help you with the planning of your individual bus tours to any european country and assist you with your hotel reservation, your group menu arrangements, your ticket booking or your tour guide reservation anywhere in Europe.
Partner companies in Ukraine
We are proud to present the most renown bus rental agencies in Ukraine to you. You can either contact them directly or through our UkraineBus bus rental platform.
Bus reservation in Ukraine
To make a charter bus reservation for a sightseeing tour or a transfer in Ukraine, please send us an email with as many details as possible about your needs or wishes at or call the central charter bus reservation office of City Tours Europe at +43 1 966 02 61 or +43 6991 952 49 44. Our team is looking forward to your message and would be pleased to answer any eventual questions about bus transfers, bus trips, bus tours, bus excursions and bus travels in Ukraine!